67 years ago today, Jerome "Jerry" John Garcia was born. Although his life was cut short at 53, Jerry will forever remain one of the most important figures in both musical and American cultural history. His work has had a lasting impact on a subculture that cherishes him like no other. Jerry is a cultural icon, as well as one of the greatest and most innovative guitarists to ever live. A man who never wanted to lead a single person wound up leading an entire movement, capturing the hearts and minds of countless followers. Almost 50 years ago, Jerry began making music, and until this day, the
music has never stopped
.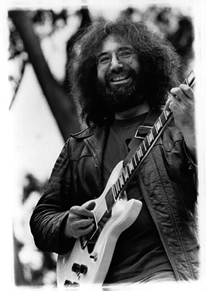 Jerry met Robert Hunter in 1960, and along with Dave Nelson (New Riders of the Purple Sage), they started a band called the Zodiacs. Performing mostly bluegrass and traditional folk numbers, Jerry would go on to join atleast 3 other bands: The Thunder Mountain Tub Thumpers, The Wildwood Boys and the Black Mountain Boys. After meeting Bob Weir in 1963, Jerry formed Mother McCree's Uptown Jug Champions. With the addition of Phil Lesh and Ron "Pigpen" McKernan, the band would become the Warlocks until finally settling on the Grateful Dead, a phrase from the Egyptian Book of the Dead. When the band began experimenting with electric instruments, they drew heavy criticism from the beatnik crowd, however, Jerry clearly saw the potential in the electric guitar and pursued it endearingly.
"I'm shopping around for something to do that no one will like."
Using a combination of banjo picking techniques, and downhome style playing, Jerry created one of the most unique sounds yet to be heard on the guitar. In the Grateful Dead's early years, heavy traces of Rolling Stones' influence can be heard. As the band progressed, explored and experimented further, musically and otherwise, Jerry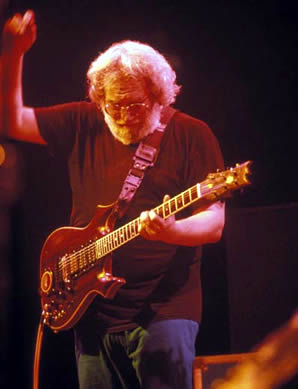 began to develop a unique style. Jerry's guitar playing is unmistakable. Anyone who knows Jerry's playing can pick out his trademark triple-pull-offs or mutron III envelope filter. His powerful lead lines are instantly identifiable, and are the driving force behind so many of the Dead's live jams.
"And as far as I'm concerned, it's like I say, drugs are not the problem. Other stuff

is the problem."



Jerry's love for music extended well beyond the Dead. Jerry was constantly
performing in one
way or another whether it be in the Jerry Garcia Band, New Riders of the Purple Sage, Old and in the Way, with Merl Saunders or with David Grisman. In each side project Jerry played a different role. In the New Riders, Jerry played pedal steel. They would open for the Dead, and
so Jerry would play in two bands on the same night. The day the Dead would come off the road, Jerry would be in a bar performing with one of his side projects
.
Today, we celebrate the life of Jerry Garcia who has had such an impact on so many music lovers. Even though his life was cut short, his music has remained timeless, inspiring bands and followers alike. Many will agree that Jerry was cut from a fabric that is rarely seen in this world. His legacy will live on through the countless deadheads that cherish his every note, and through his i
mpact in the world of music. Happy Birthday Jerry.
From the land of the midnight sun




where the ice blue roses grow




'long those roads of gold and silver snow




Howlin' wide or moaning low




So many roads I know




So many roads to ease my soul
Grateful Dead,
So Many Roads
To celebrate Jerry's music, here is a show from the Filmore East from May 15th, 1970. One of my favourite shows. This show really flaunts Jerry's ability as a guitarist and that's why I have chosen it. I've also included the February 18th, 1971 show from the Capitol Theatre. Both of these shows have incredible Darkstars, among many others. Enjoy both of these gems on this special day in history.
1970-05-15 Filmore East, New York, NY part 1
1970-05-15 Filmore East, New York, NY part 2
1971-02-18 Capitol Theatre, Port Chester, NY
Here's a great video of the Dead performing Fire on the Mountain below from the
Capitol Theater in Passaic, NJ April 27th, 1977.